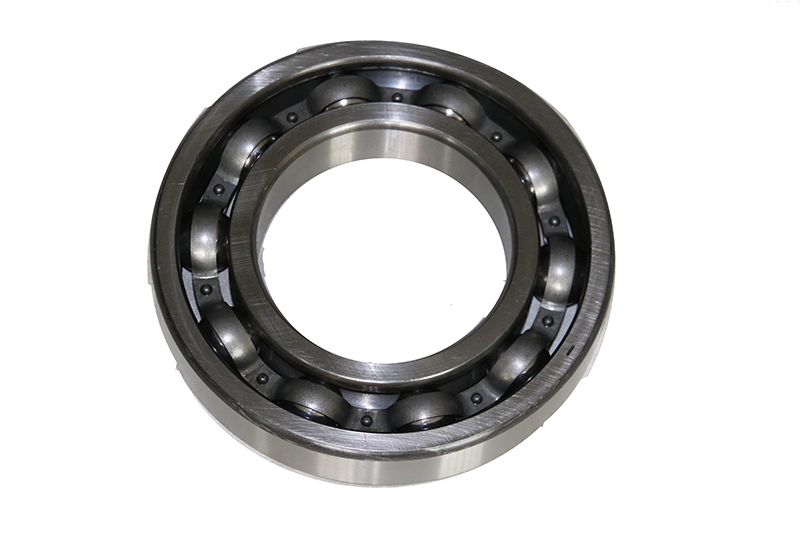 Deep groove ball bearing
Deep groove ball bearings are with the characteristics of simply designed structures; low friction coefficient and high limit rotational speed. Their range of application is very wide. They can mainly carry radial load and certain thrust load. When the radial internal clearance increased, the bearings have the functions of angular contact ball bearings that a larger thrust load can also be carried.
Structures
1、 Basic type 60000
Applications of this type of bearing can be found in situations where there are no special requirements for mounting and sealing.
2、 With one shield (-Z) on one side or two shields (-2Z) on both sides.
The shields are made of steel sheet. Adequate lubricating grease has been put in the deep groove ball bearings with two shields during assembling process and there is no need to clean the bearing or add lubricant as mounting. It is noncontact seal, and compared with deep groove ball bearings with seals, they have less friction and suitable for applications with high rotational speed requirement.
3、 With one seal(-RS)on one side or two seals(-2RS)on both sides
The seals are made of rubber with steel sheet reinforcement. It is contact sealing that could seal much better but have high friction and low limit rotation speed if the seals contact with the outside of the inner ring; while it is non-contact sealing that has the same limit rotation speed as the basic type. The lubricant has been prefilled in the bearing with seals both sides, so there is no need to clean and fill the lubricant as mounting.
4、With snap ring groove on the outer ring (-N).
The snap ring can be used to locate the bearing in the axial direction so that the mounting in the housing is simplified.
Cage material
Deep groove ball bearings generally use pressed steel cages or solid cages. Phenol resin cage is suitable for application with high limit rotational speed.
Permissible Tilt Angle
Deep groove ball bearings permit tilting angle between the inner ring and outer ring. The details are listed in the Table 1.
Tolerance and Clearance
The tolerance of deep groove ball bearings is P0 basically. P5, P6, P4 and P2 are available for different application.
The radial internal clearance of deep groove ball bearing is as Table 3.
Dynamic equivalent radial load
Pr=XFr+YFa
式中: Fr—Radial load (kN)
Fa—Axial load (kN)
X—Radial factor
Y—Axial factor
X and Y values see Table below.
Static equivalent radial load
P0r=Fr[kN]
P0r=0.6Fr+0.5Fa[kN]